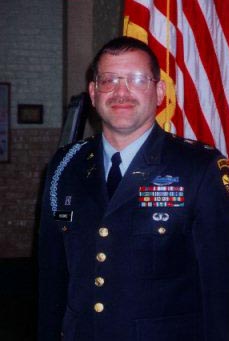 LTC Ronald R. Richard (RET)
Senior Army Instructor
Hillside High School
Ronald R. Richard was born in March 1953; the eldest of four children. His family lived in Detroit, Michigan until he was 5. They then moved to Atlanta, Georgia for five years before returning to Detroit. He graduated from Paul K. Cousino High School in 1971. While in high school, he lettered in three sports (football, basketball, and track), and demonstrated leadership as co-captain in both football and track, president of both his Junior class and the Varsity Club, and a member of the National Honor Society.
A month after graduation, Ronald entered the United States Military Academy at West Point, New York. In 1975m he graduated from the Military Academy as a commissioned 2nd Lieutenant in the U.S. Army Infantry. For over 21 years of service to his country, he served in numerous assignments around the world, helped bring about peace in the Middle East during Operation Desert Storm and attended numerous military and civilian schools. His career focus was two-fold; educating soldiers and cadets, and working at the operational-level of the Army's planning staffing.
Ronald began working with our country's youth on his very first assignment in the Army to Germany. He trained the young soldiers of two platoons and Charlie Company in the First Infantry Divisions (Foward). Upon his return stateside, he commanded back to back training companies at Fort Sill, Oklahoma. He was responsible for transforming over 2,000 high school students into soldiers. His next assignment found him back at his alma matter for three years as a Tactical Officer. In this position, he was responsible for guiding, counseling and training over 120 future leaders of the Army. He also coached rugby. His last assignment in the Army brought him to the ROTC cadets of Bucknell University in Lewisburg, Pennsylvania. As the Professor of Military Science he was responsible for the education and training of over a 100 cadets at five different universities/colleges. He coached rugby here, also. Since his retirement from the military in 1996, he has been teaching over 100 high school students in an elective entitled JROTC. The mission of this program is to motivate young people to be better citizens.
When Ronald was not working with the youth and leaders of tomorrow, he spent time as an operational-level planner. His initial assignment in this area was for a year in Korea working with U.S. Air Force and the Korean Army and Air Forces. For the first time in six months, Ron educated the U.S. Air Force A-10 fighter pilots on the needs of the ground forces. The final months were spend at the U.S. Air Force's operational command headquarters in Korea assisting in coordinating the interface between two countries and their respective armies and air forces. Ron's next assignment found him on the other side of the world. His second assignment to Germany in the late 1980s placed him in the Plans Division of DCSOPS at USAREUR Headquarters. In this position, he was responsible for the war plans associated with the European Theater. Additionally, he oversaw the professional development seminars for that theater's general officers. The final assignment in the career focus dealt with educating and training the division and corps-level commanders and their headquarters located throughout the world. Assigned to the Battle Command Training Program in the maneuver and command and control functional areas, Ron worked with the Army's premier war-fighting simulation system as an observer and educator. He was also responsible for developing simulation war plans and overseeing educational seminars.
In December 1990, Ron deployed to Operation Desert Storm in the Middle East from his third Germany assignment. As the Executive Officer of the 7th Battalion, 6th Infantry, 1st Armored Division, he was responsible for the deployment coordination of supplies and redeployment of over 900 soldiers assigned to the battalion. During the war, his unit saw action on three separate occasions.
Ron's civilian education consisted of a Bachelor of Science in Engineering from the U.S.Military Academy in 1975 and Master of Education in Student Personnel Services from University of South Carolina in 1983. His military schooling included Airborne and Rangers schools, Infantry Officer Basic Course, Field Artillery Officer Advanced Course, Joint Air and Ground Staff Course, and Command and General Staff Course.
Ron has been married to Debbie for over 20 years and has adopted two girls, Anna and Ping, from China.